Progresif wins Marketing & Brand Initiative of the Year award for CSR project with MOE
Its 'Donate Data' platform already benefited ten schools.
Top Brunei telecom company Progresif Sdn Bhd (Progresif) partnered with the Ministry of Education (MOE) last September 2020 and introduced 'Progresif for Schools', a year-long partnership committed to advocate for education.
From this partnership, the 'Donate Data' campaign was developed. Launched in February 2021, the programme saw the telecom company sponsor infrastructure to provide ten local schools with broadband internet and provided a platform for the public to donate data to students.
Through the 'Donate Data' platform, Progresif subscribers have the option to donate money which will then be converted to data via SMS.
Non-Progresif subscribers may also use other platforms to donate, such as Progresif PAY, BIBD Online, Baiduri Bank, Progresif Webstore, and the Community for Brunei website.
The first ten schools counted as Progresif's benefactors include Pusat Tingkatan Enam Sengkurong, Maktab Duli Pengiran Muda Al-Muhtadee Billah, Sekolah Menengah Rimba II, Maktab Sains Paduka Seri Baginda Sultan, Pusat Tingkatan Enam Tutong, Sekolah Menengah Perdana Wazir, Pusat Tingkatan Enam Belait, Pusat Tingkatan Enam Meragang, Sekolah Menengah Sultan Sharif Ali and Sekolah Menengah Sultan Hassan.
Following the second wave of the pandemic in August 2021, Progresif has since then adjusted the priority to support any students in need of data and devices to sustain schooling from home.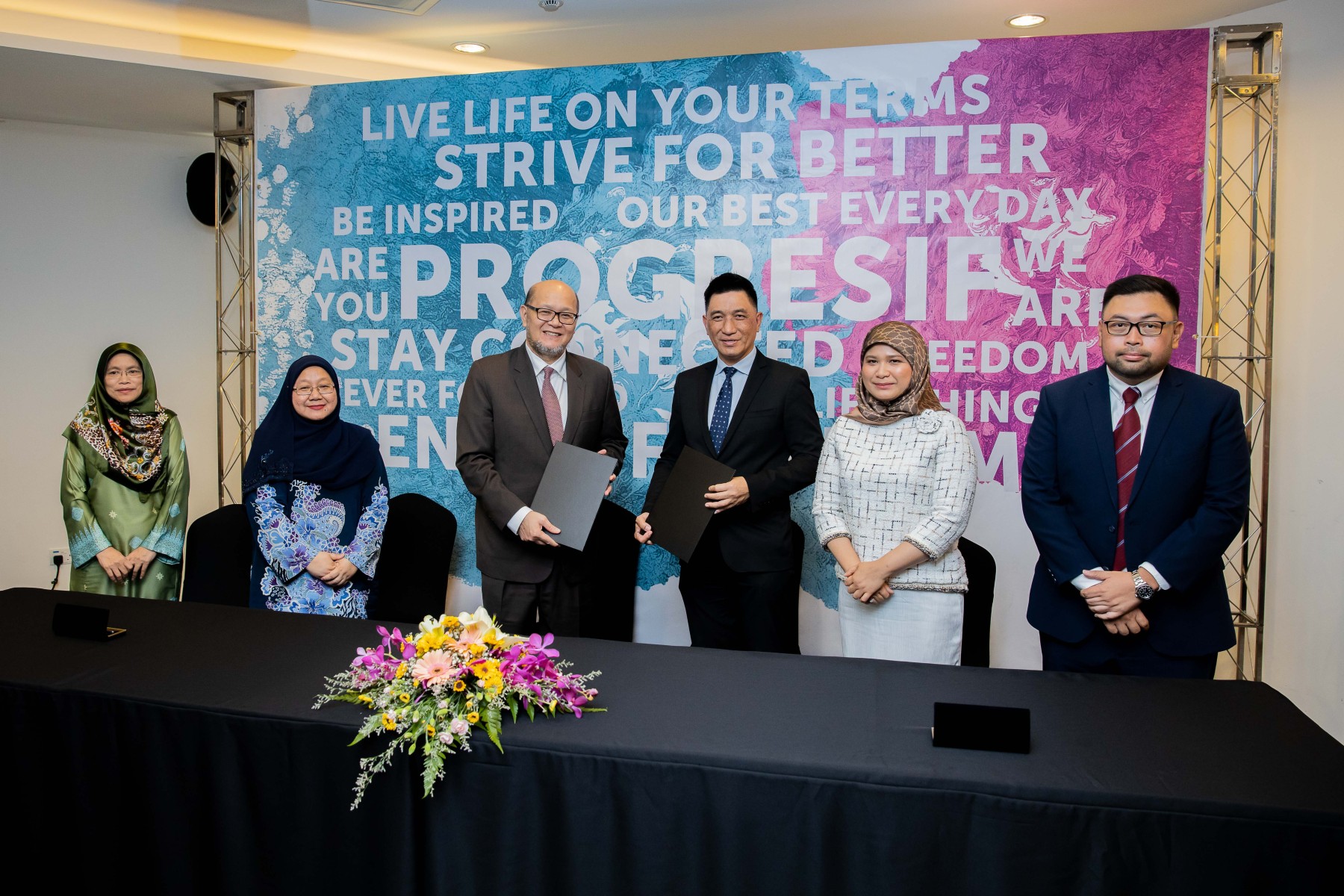 Since its launch and within six months, the 'Donate Data' campaign collected over BND10,500 from the public. This translates to SIM cards covering 350 students in need. By November 2021, donations had reached BND50,000 and reflected the public's response to support Progresif's cause for education.
For these efforts, Progresif was given the Marketing & Brand Initiative of the Year - Brunei Darussalam award in the recently concluded Asian Telecom Awards. The awards programme recognises remarkable achievements and initiatives of leading telecom companies across Asia.
"The initiative was the first of its type in Brunei, all of Progresif's staff members worked tirelessly together when we launched the 'Progresif For Schools' campaign. The initiative has demonstrated how kind and supportive individuals, as well as businesses, are in aiding our students and educators in Brunei Darussalam in improving their academic performance. It emphasises the importance of social responsibility, and I believe that this award belongs to all of us! A single act of generosity and cooperation culminated in the extraordinary success of Progresif's 'Donate Data Campaign' via our CSR initiatives for the nation.", in a statement by Amilin Mat Sah, Progresif's CSR & Sponsorship Coordinator.
In giving this award to Progresif, the judging committee considered three major achievements.
First is the company's ability to bring innovation to the forefront whilst promoting education to the public.
The 'Donate Data' campaign innovatively combined technology, education development, and corporate social responsibility in one. It was able to provide ten schools with connectivity to help facilitate learning through online platforms as part of a blended learning approach.
Second is that since launch, it was able to collect almost BND58,000 a contribution equivalent to a total of 20,000GB worth of data add-ons.
Third is being able to adapt to the shifting needs of the students as the pandemic peaked. Both the MOE and Progresif recognised the challenges parents and students face and decided to allocate the funds collected to give equal access and opportunity to less privileged students.
Due to the need for urgent access and fibre infrastructure limitations, sim cards preloaded with 10GB were provided. The sim cards were auto-loaded in the following months until the school year ended in December. Progresif aims to continue helping students in their online learning at home, following through with its Corporate Social Responsibility initiatives.
Added Progresif CEO Hajah Nurul Haniah Binti Hj Jaafar, "Winning this honour emphasises the importance of going above and beyond. Due to the ongoing need for data, we will continue to underline our commitment to supporting students' education and providing equal education opportunities to all students across Brunei, as part of one of our four Corporate Social Responsibility pledges - 'Progress for Education'. The funds raised through Donate Data are now being utilised to help give students access to online learning as part of ongoing efforts to ensure equal opportunities for all students. The success of Donate Data campaign is to the students and teachers who will be able to access a plethora of information, expertise, and educational tools, expanding learning opportunities and allowing them to do more than just learn in the classroom. And that is why we do what we do because Progresif is a company powered by people with heart."